Comprehensive and Powerful
CIRCLY 7.0 is a powerful, user-friendly, Windows-based package that automates mechanistic pavement design and analysis.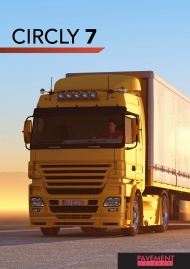 This Australian designed system has been in regular use World-wide for more than two decades proving its worth in thousands of design applications.
Since 1987 it has formed an integral part of the Austroads Pavement Design Guide, the standard for road design in Australia and New Zealand.
CIRCLY 7.0 implements a rigorous flexible pavement design methodology that incorporates state-of-the-art pavement material properties and performance models. It calculates the cumulative damage induced by the whole traffic spectrum.
Easy to Use
Defining Inputs
Pavement and loading databases eliminate the need to constantly re-key information. CIRCLY 7.0  is an open system that lets you define your own material properties and loadings.
Viewing the Results
CIRCLY 7.0 generates graphs that show the variation of the damage factor across the pavement. CIRCLY 7.0 can also generate graphs of any component of displacement, strain or stress in two-dimensional or three-dimensional form.
Slash Days From Your Design Jobs!
Automatic Thickness Design capability – determine the optimum thickness of a given layer in a fraction of a second on any PC.
Simultaneous calculation of the damage factor for all layers with a performance model.
The Parametric Analysis feature can loop through a range of thicknesses for one or two layers, while simultaneously designing the thickness of another layer. This feature will optimise up to three layers. Combining this with a Cost Analysis feature, allows for fine-tuning of layer thicknesses to minimize construction and maintenance costs.
Proven Technology
CIRCLY has been in regular use World-wide for more than two decades proving its worth in thousands of design applications.
Alternative design systems for Heavy Duty Pavements
A special design system, APSDS (Airport Pavement Structural Design System) is used for airport pavements. It is based on the CIRCLY system and has been modified to suit the design of airport pavements.
HIPAVE (Heavy Industrial PAVEment design) is for the mechanistic analysis and design of flexible pavements subjected to the extremely heavy wheel loads associated with freight handling vehicles in industrial facilities, in particular, intermodal container terminals. It is designed to conveniently model each combination of vehicle model and container load and to combine the damage using the Cumulative Damage Factor concept.
Click here for a comparison of the features of our three pavement design packages.
We have published a paper that describes why performance data developed for highway pavements is not appropriate for heavy loadings such as airports and container terminals and can lead to grossly under-designed pavements.
For further details see Layered Elastic Pavement Design- Recent Developments. Wardle, L.J. and Rodway, B. (1998) .