Major Update to Standard Aircraft Model Library
You can now update your APSDS Standard Aircraft Model Library simply by installing the latest version of APSDS [Version 5.0t (3 October 2019) or later].  Download from here.
The latest update includes 120 aircraft models, up from 70 in the old version.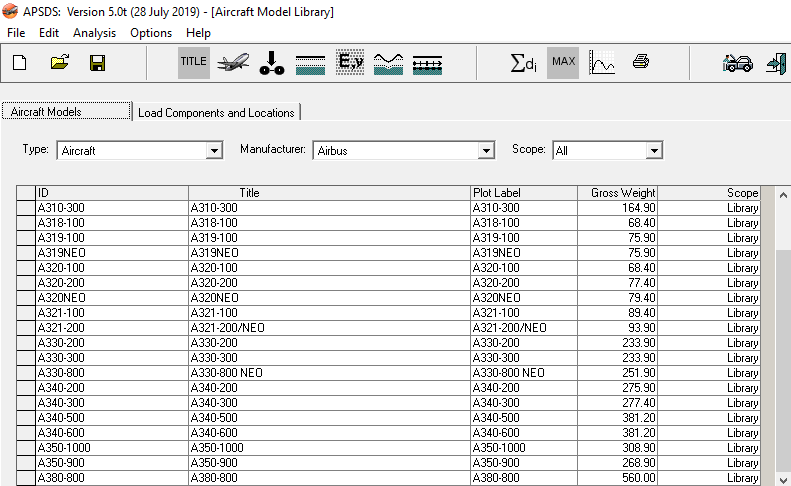 APSDS Workshop Slides now available
The APSDS 5.0 Workshop slides are now available.
(You need to Register and Log-in to access this content. Click here to get started)
Part 1 – Introduction to Airport Pavement Research
Part 2 – APSDS Overview and Exercises
APSDS 5.0 now released!
A brief summary of the new features is given here.
New calibration for APSDS 5.0
With this new calibration, pavement thicknesses determined by APSDS 5.0 are significantly less than those obtained using our previous calibration and the FAA design software, FAARFIELD.
Click here for more details and sample designs for A380-800, B747-400 and B777-300 aircraft.
CIRCLY, APSDS and HIPAVE Workshops
The Centre for Pavement Engineering Education (CPEE) will be presenting the following Short Courses/Workshops this year:

Mechanistic Pavement Design – CIRCLY
This one day course provides delegates with an understanding of the theoretical basis of mechanistic pavement design methods and is a hands-on course with each student having access to a PC. The course is offered as a single day for those who are well versed and practiced in pavement design, or who have completed any of the past CPEE two day Pavement Design courses, or for those who are attending the current Pavement Design – Principles & Practice 2 day course.
The course provides an introduction to flexible pavement design models using CIRCLY 7.0 focusing on the 2017 Austroads Guide to Pavement Technology – Part 2: Pavement Structural Design (AGPT02-17).
The workshop will also include an introduction to heavy duty pavement design for container terminals and airports.
These courses are recognized by Engineers Australia for Continuing Professional Development (CPD) purposes.
Note that
You can also download the CIRCLY 7.0 Workshop slides (you will need to Register and Log-in to access this content. Click here to get started):
Another very useful resource is the webinar by Dr. Michael Moffatt (ARRB).
The webinar is here. The slides are here.
Tutorials
The  CIRCLY 7.0 User Manual cannot be printed but is a expanding live collection of Online Tutorials.  They are more effective than a conventional User Manual and consist of text, graphics and videos.
Get started here.   (Register and Log-in to access this content. Click here to get started)
Workshop Calendar
Note: The CIRCLY and Heavy Duty Pavement Design Workshops are "hands-on" experiences with each student having their own PC – so 16 places only.
Additional Pavement related short courses are offered through The Australian Asphalt Pavement Association's (AAPA) Training Centre. A full list of the courses on offer can be found on the AAPA website.
Register your details below if you are interested in attending a Workshop and would like to be notified when further details are available.
EXPRESSION OF INTEREST FORM –  CIRCLY Courses
New fifth runway at Amsterdam Airport Schiphol now open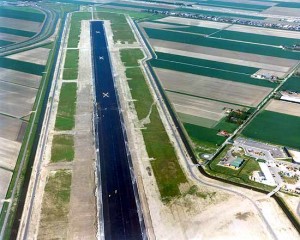 Schiphol is the world's fourth busiest International Airport.
APSDS was used for the design of the new fifth runway. Total project cost is estimated to be €340 million.  Construction commenced in early 2002 and opened for operation on 20 February 2003.
The project presented many challenges to the designers. Loading included all current wide-body aircraft and future New Large Aircraft.
For further details on how APSDS was used for the pavement design, read Dr. Arian de Bondt's article.
For more general background on the project, see the Airport Technology article.